Process
Oct. 16, 2017
I've decided to document my processes more and I will be putting them up more regularly on here. I hadn't thought of doing this while I was working on this scorpion drawing so I don't have as many sequence photos as I'd like. Lately, my attention and interests have been leaning towards illustration work. This influences the kinds of images I make and I adopt working methods of these skills. In focusing on comics and story telling, my methods for each picture plane and method of execution has changed. In this case, there is just the one panel. A 'middle painting' with no beginning or end to the narrative. I got the idea of painting 'middle scenes' from pulp comic covers, in which the artist's main concern, besides aesthetics, was to capture the viewer immediate attention.
I've been using references from an old book of animals illustrations to use in my drawings. I keep the pencil line lose so that it's easier to erase later. At this point I'm only concerned with how my subjects are going to interact with the picture plane in terms of composition. If I'm comfortable, I continue on to blocking in a bit of general light sources. If not, then I do some erasing and try until it woks.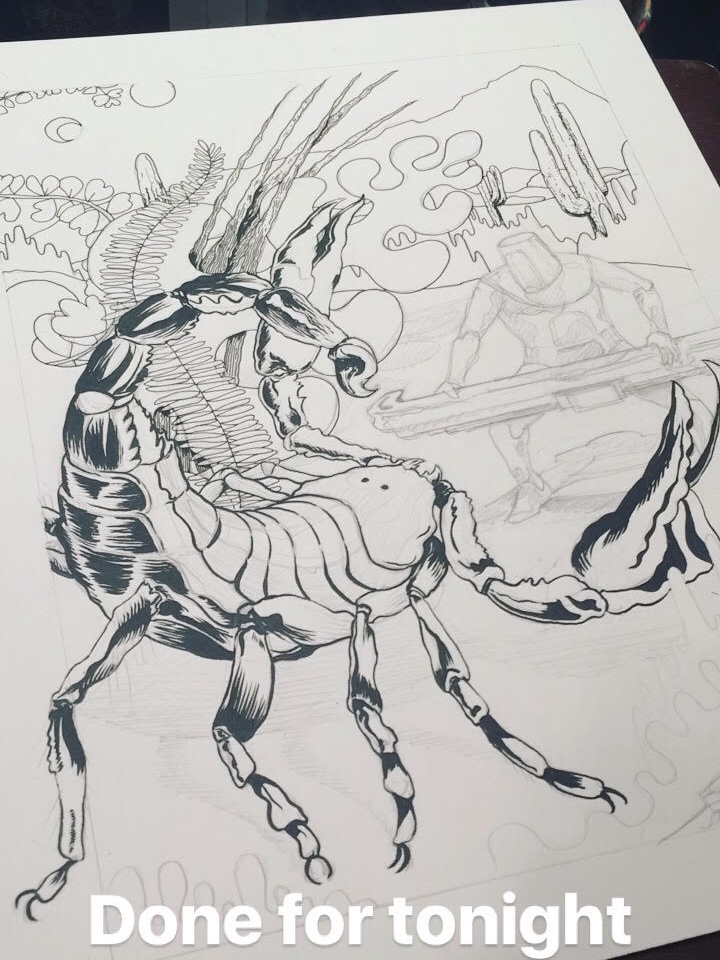 Inks are becoming very special to me. I focused on looking at popular inkers in the comic book industry as well as artists that I admire using the medium. In some ways, Ink can be very binary, it's either painted black or it isn't. The interesting stuff happens when you attempt to create value with a binary system like ink. I've enjoyed playing with line weight, hatching, cross-hatching, and the 'Kirby Crackle' which I just recently ran into in my research.
An argument could be made to my previous comment about calling ink a binary medium. When diluted with water, you can achieve a wonderful scale of values without having to use techniques like cross-hatching. This method is not only effective, but is also reminiscent of watercolor. I'll keep trying new techniques until I find something that I like. After this ink wash, I intend to add color to the image digitally. A process I have picked up from artist Tim Sale in his book Daredevil: Yellow.